News Center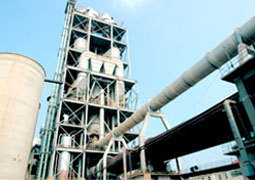 News Center
China National Building Material Group Attends the First China International Import Expo
Source: CNBM
Date: November 8, 2018

On November 5, the opening ceremony of the first China International Import Expo (CIIE) was held in National Exhibition and Convention Center (Shanghai). President Xi Jinping attended the opening ceremony and delivered a keynote speech. With the theme of "New Era, Shared Future", CIIE attended by 172 countries, regions, and international organizations and over 3,600 enterprises is the world's first national exhibition focusing on import by far and a great initiative in the history of international trade development. By holding CIIE, China focuses on promoting a new round of high-level opening-up and takes the initiative to open the market to the outside world.

Song Zhiping, Chairman and Party Committee Secretary of CNBM, attended the opening ceremony of CIIE at the invitation. Meanwhile, he attended the Central Enterprises International Cooperation Forum held by State-owned Assets Supervision and Administration Commission of the State Council under the theme of "deepening reform, expanding opening-up and promoting enterprise development with smooth trade".

By upholding the "Belt and Road" Initiative and emphasizing international management, international talents and globalized purchase, CNBM has become the role model for central enterprises in international capacity cooperation. In recent years, CNBM has seized the development opportunities of transformation and upgrading and vigorously advanced the development of Three New Industries represented by "new energy, new material and new house", laying a foundation for the long-term development of CNBM in the future.

In order to give full play to the overflow effect of CIIE, CNBM held the signing ceremony of collective purchase on November 7. 8 enterprises under CNBM including China National Building Materials & Equipment Import & Export, BNBM Group, Triumph Science & Technology and China National Materials Industry Import & Export have signed an agreement of purchase with nearly 20 overseas enterprises with a purchase amount of RMB 12 billion, covering over 10 products such as bulk commodity, intelligent and high-end equipment and new energy products. They also signed a financing agreement with financial institutions such as the Export-Import Bank of China, providing necessary guarantee and fund support for the successful implementation of the contract.
AVANCIS and SINGULUS, two German companies under Triumph Science & Technology of CNBM, formed a delegation of German companies of CNBM and brought its own latest research achievement, high-end products and application concepts to CIIE. AVANCIS built a "City of Future" with CIGS solar panel. While displaying the products in an all-rounded way, it highlighted the high applicability and artistry of thin-film solar panel in application fields. Led by CEO and CFO to Shanghai, SINGULUS displayed its world's leading technology, equipment and service in semiconductor, medicine and wafer, gaining wide attention of visitors. Song Zhiping paid a visit to the booths of the two companies and had a friendly talk with employees. While showing appreciation of their achievement, Song Zhiping encouraged them to bring the great overseas scientific research achievements to China and make intensified efforts to expand the business development in China.
During CIIE, Song Zhiping also witnessed the signing ceremony of the strategic cooperation agreement between Triumph Science & Technology and Signify (formerly Philips Lighting). Through the conversation with Hong Anli, Global CEO of Signify, Song Zhiping noted that in the new era, Chinese enterprises welcome the model of global specialization and cooperation and emphasize more on giving play to one's strengths to realize the multilateral cooperation and win-win result. Hong Anli agreed with him and noted that Signify would provide the professional service and technology guarantee in the process of CNBM's promoting smart agriculture. Both sides noted that they would give play to their own strengths, make in-depth cooperation in smart agriculture lighting technology integration and project promotion and make utmost efforts to build a model engineering for the smart agriculture in China in the new era.

At the invitation, Song Zhiping also paid a visit to booths of Japanese Nice, AGC and Mitsubishi Materials respectively and had an in-depth conversation in terms of the business cooperation between CNBM and other parties.
Huang Anzhong, Vice General Manager of CNBM, Peng Shou, President of China National Building Material Company Limited and General Manager of Triumph Science & Technology, Chen Yongxin, General Manager of China National Building Materials & Equipment Import & Export, Wang Lihe, Vice General Manager of China National Building Materials & Equipment Import & Export, Yu Xianfeng, Vice General Manager of BNBM Group, Tang Liwei, Vice General Manager of Triumph Science & Technology, Cao Zhihong, Vice General Manager of China National Materials Industry Import & Export and Li Zhiwei, General Manager of International Cooperation Department of CNBM, among others, attended relevant events.